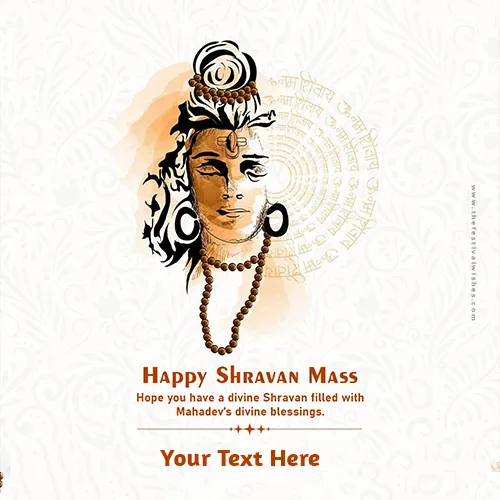 The auspicious month of Shravan or Sawan Maas is upon us, a time deeply revered by devotees of Lord Shiva. At TheFestivalWishes, we are delighted to help you celebrate this spiritual month in a special and personalized way with our Happy Shravan Maas cards with name.

Our collection of cards is meticulously crafted, radiating the spiritual essence of Shravan Maas. Each design encapsulates the divine aura of Lord Shiva, serving as a beautiful medium to express your devotion and share divine blessings.

But what truly sets our Shravan Maas cards with name and picture apart is the personalized touch we offer. You can customize your selected card by adding your name and a picture. This personalized approach allows you to create a special message of devotion, making the recipient feel unique and cherished.

Downloading these personalized cards is straightforward. Simply visit our website, choose from the range of Shravan Maas cards, add your name and a picture, and click download. Make this Shravan Maas even more memorable by sharing your personalized Happy Shravan Maas cards with your loved ones. May Lord Shiva bless you with peace, prosperity, and spiritual growth. Om Namah Shivay!